Bogotá
DPF Pilot Project in Bogotá, Colombia
This large scale Diesel Particulate Filter retrofit program is a collaborative effort between the VERT® association, the environmental department of the city of Bogotá (Secretaría Distrital del Ambiente de Bogotá), the Universidad Nacional de Colombia (UNAL) and the Swiss Agency for Development and Cooperation (SDC).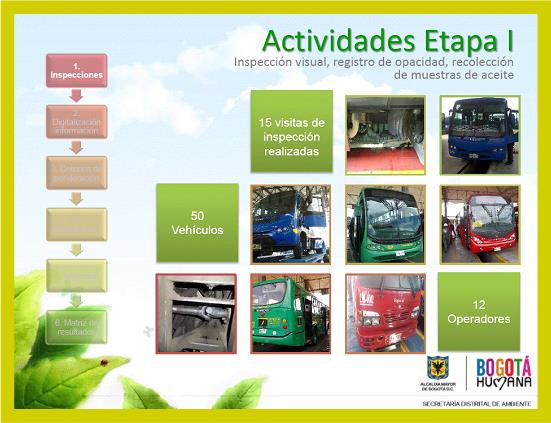 The aim of the program is to retrofit all public transport buses in the city of Bogotá with VERT certified DPF systems. After preliminary tests and authorization procedures in late 2013 and early 2014, the full scale retrofit program will start  in 2015. In its course, 12,000 public vehicles have been affected - Up to 1,800 articulated busses and feeders (mainly Euro II and III engines) and more than 11,000 smaller busses (with engines ranging from pre-EURO to Euro II) are currently being replaced, re-powered or retrofitted with DPFs.
The second part of the project is a 10-years plan concerned with the emission control of all heavy duty vehicles and other emission sources in the city. After the compilation of an emissions inventory, a pilot program started in November 2013, focusing on high-emitting sources.
Mayor of Bogotá (Alcalde Gustavo Petro) about the need of upgrading the bus fleet with diesel particle filters: Implementación de filtros de partículas en buses del SITP 
For more information please read VERT® Supports DPF Pilot Project For Public Buses in Bogotá, Colombia and VERT®Update on the VERT® Pilot Project Bogotá  or contact office@vert-certification.eu.